a clarification on the trinketization of jesus, and, this doesn't qualify as jesus junk
so, you may know that i post these fairly irregular "jesus junk of the month" awards. they're not monthly, in case you haven't noticed. deal with it.
people mostly find them annoying or hilarious (as i do). but occasionally, i recieve a comment or email from someone who wonders why i feel the need to point out this stuff, because "it's just good people", and "can't you just leave them alone and not buy it?" no, sorry. first, i think it's funny stuff. but even moreso, i have a deep level of disdain for what i'm officially naming "the trinketization of jesus" (i just copyrighted that, and will be selling keychains with that phrase embossed on them in a few weeks). i'm not opposed to all products that have a christian angle to them; just those that cross the semi-fuzzy line into trinket-land. tchotchkes for jesus.
here are a few of my 'favorites':
the colors of faith duckey
p31 dolls
'we are fishermen' jesus figurines
weddings on water houseboat chapel (that's a BIG trinket!)
the fire bible
'your best life now' board game
gospel golf balls
the jesus pan
jesus as a teenager painting
that said, i have a bit of hypocrisy on this subject. here it is: my stomach does not turn when the trinketization is done by someone outside christianity (most of the time). in fact, it's at that point that i sometimes even want the product! yes, they are often kitchze. but that's part of their charm! i bought a christian friend who smokes an ashtray with jesus' face on it, and the phrase, "jesus hates it when you smoke".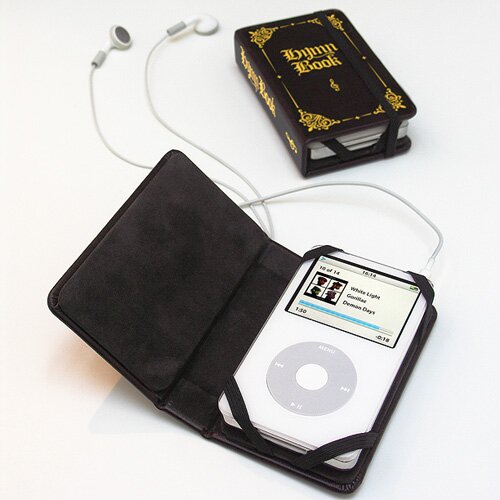 i still think these bible jump drives are kinda fun. if they made this cross mp3 player, i might want one. i love wearing the t-shirt a friend made for me with a classical painting of jesus wearing a larry-the-cucumber t-shirt, or the one with a classical painting of jesus wearing a ys t-shirt.
and in that vein: i cannot give this "hymn book leather book cover for ipod" the coveted jjotm award. if it were in a christian bookstore, i'd disdain it. but created by a company called "suck, u.k.", somehow i love it. sorry. my bad. jesus is probably rolling his eyes in my direction right now.
(ht to seth for the ipod cover link)
9 Comments so far
Leave a comment
RSS feed for comments on this post. TrackBack URI
Leave a comment
Line and paragraph breaks automatic, e-mail address never displayed, HTML allowed: