from magical child to magical teen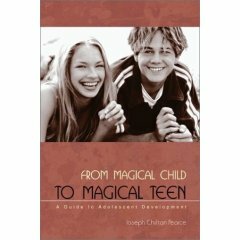 , by joseph chilton pierce.
after a confusing and wordy intro, this book had a fantastic opening paragraph that gave me great hope for the pages to come:
in the summer of my sixth year a great expectation arose within me; something overwhelming was pending. i was up each morning at dawn, rushed to the top of dorchester hill, a treeless knoll of grass and boulders, to await the sun, my heart pounding. a kind of numinous expectancy loomed everywhere about and within me. a precise shift of brain function was afoot; my biological system was preparing to shift my awareness from the pre-logical operations of the child to the operational logic of later childhood, and an awesome new dimension of life was ready to unfold. instead, i was put in school that fall. all year i sat at that desk, stunned, wondering at such a fate, thinking over and over: something was supposed to happen, and it wasn't this.
unfortunately, the rest of the book was seriously downhill from there.
people occasionally mention to me that i only write positive book reviews. well, i suppose that's because i try to be careful about what i read; so i'm pre-selecting books i expect i'll enjoy. my pre-selection abilities failed me on this one.
robert chilton pierce is a bit of a guru to the waldorf crowd (my kids attend a waldorf school). part of me can see why: he's a spiritual person, and approaches education and development with an assumption that children and teens are spiritual also. and i can dig that; of course, i agree with that. a book about adolescent development that acknowledges, even embraces, the spirit, would be a welcomed read. but the problems with this book (from where i stand) are so far reaching, it's hardly even worth listing them all. ok, just a few:
1. i was ticked — actually, pissed — that the subtitle of the book is "a guide to adolescent development", but the book is anything but. i kept soldiering on in my reading, waiting for the part about teenagers. it never really came. somewhere a bit over halfway through the book he wrapped up his summary of childhood development, and i thought to myself, "finally! more than halfway through, and he's finally getting to adolescent development." i was wrong. the book turns to development (of the spirit, kinda — see below) that could take place in adolescence, or adulthood, or anytime an individual chooses to self-actualize (my sarcasm).
2. it's wordy and convoluted and clunky and wanders all over the place.
3. the author uses overstatement and generalization liberally, and regularly present his opinions as fact. one little example of hundreds:
by 1980, sixty to seventy percent of all american children under the age of four were in day-care centers for periods up to twelve hours a day, sevene days a week.
ok, hold on there. yes, some parents overuse day care, to the detriment of their children. and, this was much more true "by 1980″ than it would be "by 2007″ (see next point). but to imply that 60 - 70% are in day-care for 72 hours a week is just irresponsible and misleading information presentation (and irresponsible editing, on the part of the publisher).
4. this book was originally published in 1985 under a different title. in the "publisher's preface" to this re-titled 2006 edition, the publisher states that the book was published before its time originally, and is only now truly timely. well, that may or may not be true in terms of people swallowing pierce's buddhist take on development, but it doesn't change the fact that the book sounds extremely dated, like it was, well, written in the early 80s. i regularly felt developmental findings and cultural trends of the past 25 years were being ignored.
ok, i wrote more words than i meant to.
that was a great opening paragraph, though, huh?
5 Comments so far
Leave a comment
RSS feed for comments on this post. TrackBack URI
Leave a comment
Line and paragraph breaks automatic, e-mail address never displayed, HTML allowed: