ysmarko's recommended music, volume 1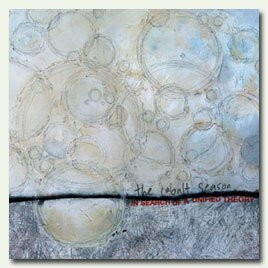 the cobalt season: in search of a unified theory,
this post is long overdue. quite frankly, the cobalt season's new cd is one of the best albums of the year, so far. at least to my lyrical and musical tastes. yes, music affinity is subjective. but there's music i can appreciate as quality music, even though i don't like the music. the dixie chicks, for example. but "in search of a unified theory", lucky for me, falls into the musical sweet spot: music i totally dig, combined with fantastic lyrics and quality in every way.
the cobalt season is, for all practical purposes, ryan sharp. sure, it's also the amazingly talented holly sharp, and a couple other nicely talented fellows. and i mean no disrespect to holly or the other fellows. but the real strength of cobalt season is the songwriting (ryan), lyrics (ryan), and vocals (mostly ryan). ryan is honest like few jesus-y musicians. the last cd (also fantastic), "but i tell you", was wonderfully cranky and deconstructive. the website describes it as: 11 songs of passionate angst and hopeful imagination. yeah, passionate angst. fair. but the new tunes show a significant shift, following on the heels of holly and ryan's multi-continent, multi-year vagabond-y pilgrimage, their subsequent settling down and finding community in san francisco, and the birth of their son. ryan is clearly more comfortable in his skin (and mind, and — maybe mostly — in his faith), the description of the new disc is: 12 songs of calmed frustration. calmed. yeah. the frustration is still there — this ain't chris tomlin, people. but it is truly 'amazing' (lame and subtle lyrical joke there, in case you missed it (you have to have passing familiarity with tomlin songs to get it)).
so. if i had a rating system, i'd give this five stars (out of five). really, it's that good. i should warn: there's a few songs you couldn't exactly play in the youth group room, if you know what i mean.
oh, btw, itunes calls it "folk". i suppose "alterna-folk" would be the way i would think of it, genre-listically. (oh, it's on it's way to being available on itunes, but the cobalt season store is the only current availability option.)
3 Comments so far
Leave a comment
RSS feed for comments on this post. TrackBack URI
Leave a comment
Line and paragraph breaks automatic, e-mail address never displayed, HTML allowed: