structural revisionism
the renaissance hotel in washington, dc, is right across the street from the old convention center. i spent a week or so here in 1991, 1994, 1997 and 2000, plus a day or two here and there for planning meetings. so i feel like i kind of know this hotel (not like i know the renaissance hotel in nashville, where i calculated that i have spent about a quarter of one year of my life, between years of youth workers conventions — before and after working at ys, years of meetings, and a couple emergent conventions). so it's odd to be here about 6 years later, and see how much things have changed.
the biggest oddity is that the convention center is gone.
it's a parking lot. see? here's the view off the balcony of my hotel suite: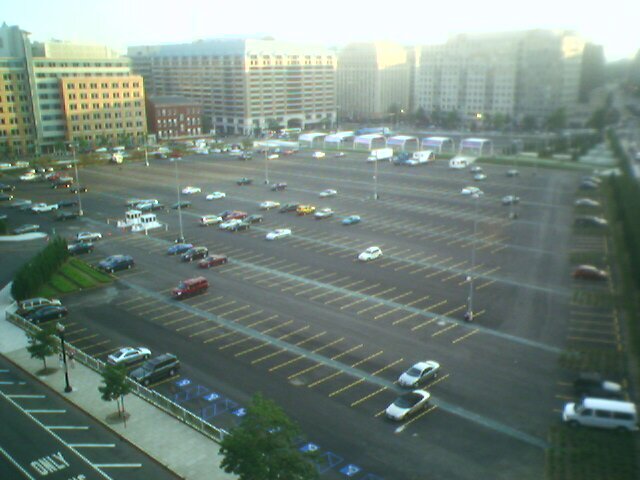 that old convention center holds so many memories for me — great ones of long hours and deep friendships and exciting ministry impact. yesterday, i'd google-mapped directions to the hotel from the airport, and then clicked on the "satellite view" to see the actual buildings. i knew DCLA was in 'the new convention center' (which isn't all that new anymore), across the street in a different direction. but i hadn't heard anything about the old place. and the satellite photo showed it there. i know those photos aren't always up to date (i've had a pool in my backyard for three years, and the satellite photo of my house shows an empty backyard). but i just didn't think about it.
so it literally took by breath away (not in a good way - more like a sucker-punch) to see the old convention center is a giant parking lot. my guess is it will eventually be something else (it's too prime a piece of property to be a parking lot — not even a parking garage).
in the mean time, i'll look longingly across the street and remember the great times when god moved in powerful ways in that space that is now less real than the memories themselves.
No Comments so far
Leave a comment
RSS feed for comments on this post. TrackBack URI
Leave a comment
Line and paragraph breaks automatic, e-mail address never displayed, HTML allowed: