my new tat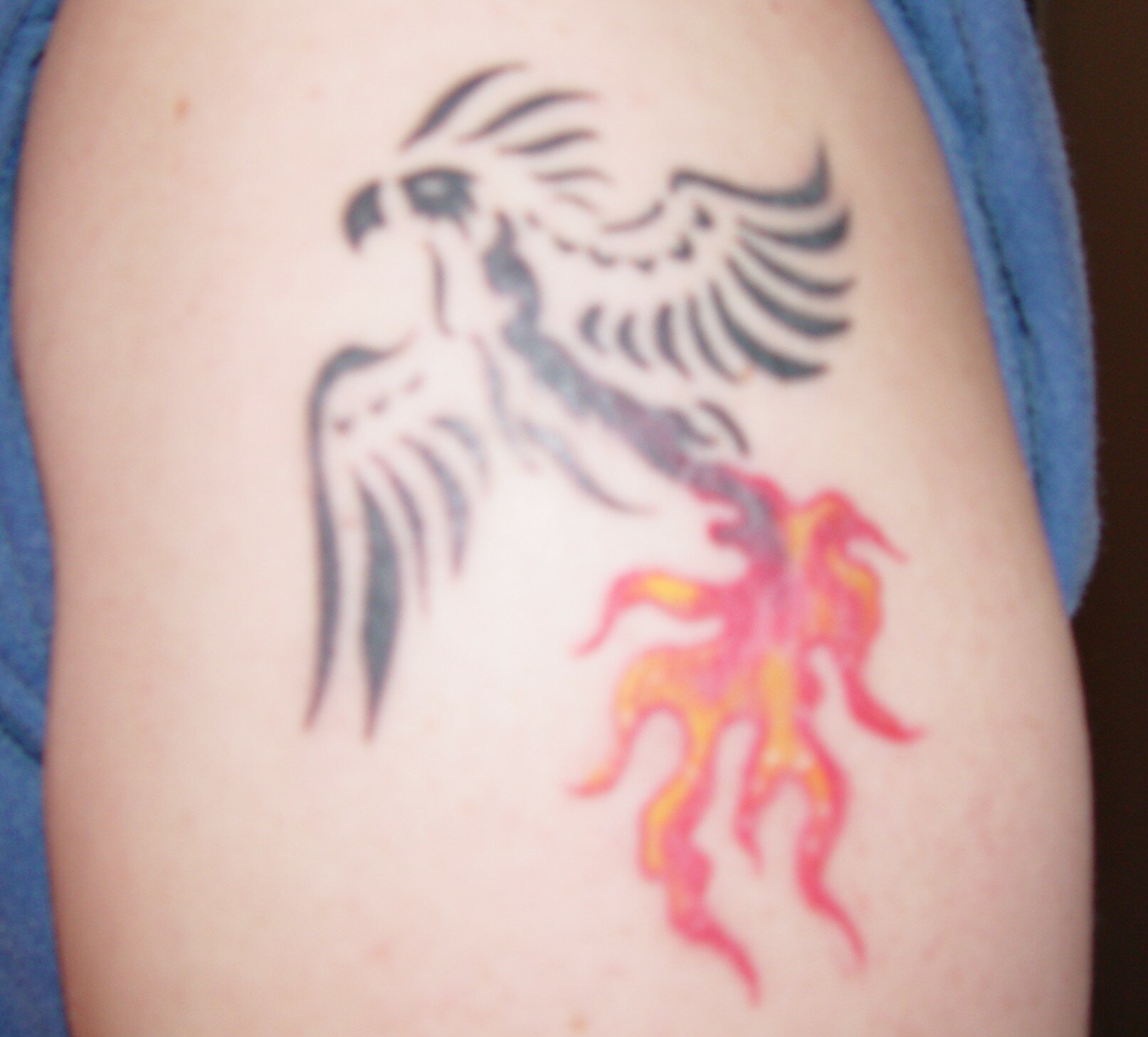 ok,here it is, my new tattoo. it's on my left arm, up by the shoulder.
right before i left for hawaii (which was the first two weeks of my sabbatical), jeannie said to me, "you're not going to surprise me and come home with a new tattoo, are you?" i said, "of course not!" i hadn't even thought of it. but — dang it! — she put the idea in my head! and a few days later as i was walking along the beach, watching the sunset, meditating on rebirth and how this sabbatical was (i hoped, at that point) going to rejuvenate me in a significant way (which, in hindsight, it did), and the concept of a phoenix popped into my head. also popping into my head was the idea of how cool it would be to 'mark' my sabbatical as a turning point by getting a phoenix tattoo! the phoenix is a mythical bird that symbolizes rebirth. when the phoenix dies (you can see this in one of the harry potter movies!), it spontaneously combusts, and is then reborn out of the flames.
a couple days later i had a chat with jeannie about it on the phone, and we agreed to both think about it. on the next chat, we agreed it would be a good 'stake in the ground' for me — an ebeneezer, as it were. i got a recommendation on a good tat place in lahaina, and visited their shop. i saw a few phoenix designs, but none were perfect. i found one, though, that had a great design (the top 2/3 of my tattoo) that i liked, but i really wanted the flames. the artist and i worked together to drop the tail feathers of the bird, and substitute flames. and the night before i came home, i spent 45 minutes gritting my teeth and intermittantly holding my breath, erecting the ebeneezer.
this is my third tattoo, and all of them have significant spiritual meaning for me. the other two are clearly christian symbols (both celtic: one a knot that symbolizes the trinity, and the other 'the cross of saint patrick' with words from patrick's prayer written around it — 'before me, behind me, beneath me, within me', identifying my connection to christ). this one is not an overt christian symbol, but is no less about my faith. it symbolizes my belief and constant desire that god desires to, and is, constantly remaking me, transforming me into the person he wants me to be. it is a symbol of great hope for me, and a reminder to me of my commitment to enter willingly into the (sometimes painful) transforming process of life in the way of jesus.
8 Comments so far
Leave a comment
RSS feed for comments on this post. TrackBack URI
Leave a comment
Line and paragraph breaks automatic, e-mail address never displayed, HTML allowed: