asian american youth ministry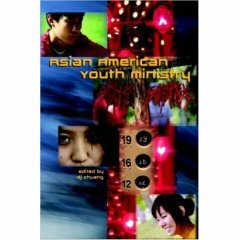 asian american youth ministry, edited by dj chuang.
this self-published book (published by the l2 foundation), highlights a dozen asian american youth ministry leaders and their thoughts about a variety of youth ministry issues specific to the asian american church. the book is really an outgrowth of an asian american youth ministry forum organized by dj and the l2 foundation.
clearly, any youth workers in an asian american church needs to read this book. but i think there are two other categories of youth workers who would benefit from reading it:
1. youth workers in even the most nominally multi-cultural of churches who have asian american kids in their youth groups. i can't think of any of the churches i worked at where we didn't at least have some asian american kids in our group. and i wish i had read this book then to have more of an understanding of some of the cultural realities that exist for them. (btw: i started reading frank wu's yesterday on the plane ride to orlando. wow, i sure wish i had read that book years ago!)
2. any youth worker (or, any person, really) who would like to grow in understanding about the uniquenesses of doing youth ministry in a particular cultural sub-set, or this particular cultural subset. in other words: i think i had assumed i knew the basics (not the complexities, but the basics) of what would make asian american youth ministry unique; but i think i also assumed the diffferences (specifically between asian american youth ministry and white, suburban youth ministry) were more similar than i now think they are. more on that below.
the book does show some of the weaknesses of self-published books, as well as of multi-author books. some of the chapters are overly basic and/or simplistic. and some are great. for example, i found the opening chapter (not dj's intro) to be boring in it's simplicity. but the three chapters that followed it were fantastic and insightful.
the link above (the book title) goes to a website where you can buy the book (it's a print-on-demand publisher). and here's the l2 foundation site, where you can see more about the book.
now. here are three observations i had after reading the book. i met with a very cool asian american youth worker the other day who contacted me after the skits that teach fiasco. we had a fun and (for me) insightful time of getting to know each other and sharing our hearts. i bounced these three notions off him, and he confirmed that, at least from his perspective also, they are accurate:
in asian american churches, youth workers are still second or third-class citizens.
sure, this is still somewhat true of youth workers in ALL churches (or, at least, in churches across ALL sub-cultures). but there's been significant progress in this area for caucasian youth workers in the past 30 years. i've written about this elsewhere. the professionalization of youth ministry came along with the legitimization of youth ministry as a calling. there are some wonderful benefits to this (like: being able to stay in youth ministry longer, which usually results in better youth ministry born out of deeper wisdom and experience). there are some downsides, too (like: entrenchment and calcification and job-protection which lead to programs and models and assumptions that are more about the youth worker than the youth). but in asian american churches (as in african american churches and latino churches), the youth worker is — in almost every case — still seen as a transitory role; a junior pastor, if you will. the pay sucks, and the congregation assumes the youth worker won't be there long (not only because of their experience that youth workers don't stay long, but because they can't imagine why someone would even be in youth ministry, let along stay in youth ministry). i was struck that dj (the editor) mentions that the 13 authors have a collected experience of over 100 years (with the implication that this is a big deal, an anomoly). i don't write this to diss on asian american youth workers at all — just the opposite. but it would be quite simple for me to find a baker's dozen of caucasian youth workers who's summed years of experience are at least twice that, if not more. i'm a 25 year youth ministry vet, and i find youth workers with more years experience than me all the time. this second (or third-) class status, and the short-term expectation of asian american youth workers feeds into a cyclical problem with the items below and others.
asian american youth workers are hired guns. so developing student leaders becomes an absolute necessity.
this is really two observations in one. first, youth workers are hired guns. in other words: the youth ministry of the church isn't just entrusted to them, it's abdicated to them. sure, this exists in caucasian (and other) churches as well. it just seems to me, as i read these authors, that this is the norm in asian american churches; almost a universal norm. since the mentality is that the youth worker is expected to do it all, and since this is practically impossible, asian american youth workers find themselves developing a team of student leaders to do the work of the ministry. and they find themselves doing this out of necessity. because there's a "we hired you to do the youth ministry" attitude in the church, there are few if any adult volunteers in the ministries — certainly not enough to have a thriving ministry full of adult/student relationships. so the students themselves have to lead the ministry, under the shepherding of the youth worker. again, this isn't a concept exclusive to the asian american church at all. but, with the legitimization of youth ministry as a calling in the white church, and the aging of youth workers, it's become more and more normative (and easier) to recruit adults in the church to work with the teenagers. this "development of student leaders" was really a central theme of the book.
in the "coming divide" between churches embracing "the one eared mickey mouse" and those trying to move to another, more generationally-integrated approach, is not even much of an option in most asian american churches, especially those with 1st generation asians as stakeholders in the church.
ok, that was a loaded sentence, so let me unpack it a bit. i think we, the youth ministry world, are heading toward a split of sorts (probably not a formal one). i talked about this at a bit more length in my "inside the youth minister's studio" podcast interview with catholic youth ministry leader scott miller. the attractional model of youth ministry, which normally goes hand-in-hand with isolating the youth ministry into an external pod, all on its own (what some have called the "one-eared mickey mouse", where the church is mickey's head, and the one ear is the youth ministry), is being perfected. never in our short history have people done this kind of youth ministry more… well… effectively. but, of course, there's a growing backlash against the assumptions and theology (and long term results) of this approach to youth ministry. and there are many who have been calling for more integration in youth ministry: integration of the teenagers into the broader context of the church. now, here's how this connects to asian american youth ministry: most asian american youth workers do not have a choice in this. because most of their churches are powered by 1st generation adults (and 1st generation culture, and 1st generation mentalities, and — in many cases — 1st generation language), they are forced by necessity to have the youth ministry function as a 2nd generation church service. in fact, i noticed, reading this book and in other conversations, that the youth ministry often grows into the english-language church service in churches where the primary worship service is conducted in another language.
all of these issues inter-relate, and create a complex reality that makes youth ministry really tough in asian american churches. the short tenure of most youth workers (not only in a particular church, but in youth ministry in general) means that youth ministry thinking in asian american churchs (and youth ministry practice) doesn't have much of a chance to really grow and evolve. and since there aren't many veterans with the wisdom that comes from many years of failures and a few successes, there aren't people to shift the perceptions about asian american youth workers in general.
i sure would love to see this change!
8 Comments so far
Leave a comment
RSS feed for comments on this post. TrackBack URI
Leave a comment
Line and paragraph breaks automatic, e-mail address never displayed, HTML allowed: